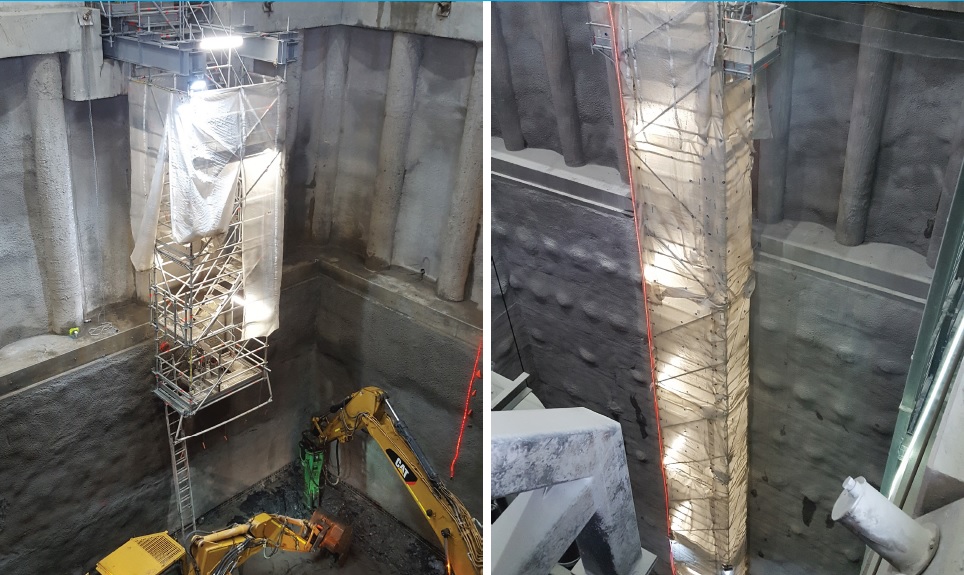 94m suspended stair
Above Scaffolding was appointed to design and install a 94m stairway access tower into an excavated shaft as part of a major infrastructure project in Sydney. The client specified the requirement for the stairway to be suspended and to be progressively extended in length to keep pace with the continuous excavation work.
Addressing high tensile loads and preparing safe assembly methodologies were key design requirements for Above Scaffolding's engineering team. A clever solution was produced using Layher Allround Aluminium Platform Stairs, in combination with Layher's 2.21m standards. An extra rosette is a feature of Layher's 2.21m standard. This rosette allows for stair modules to be split and relocated without any of the conventional requirement for tube and fittings.
The stair tower modules were assembled at ground level. Each module was then lowered into the shaft by crane and connected to the suspended stair tower in one uninterrupted operation, without setting down or double handling.
The Managing Director of Above Scaffolding, Brian Whelan, said "A safe and highly efficient progressive installation methodology was critical. Layher stair modules up to 6.2m high were installed within an hour ensuring that shaft excavation could progress with little to no interruption."
Thank you to Above Scaffolding for the use of the above photos.