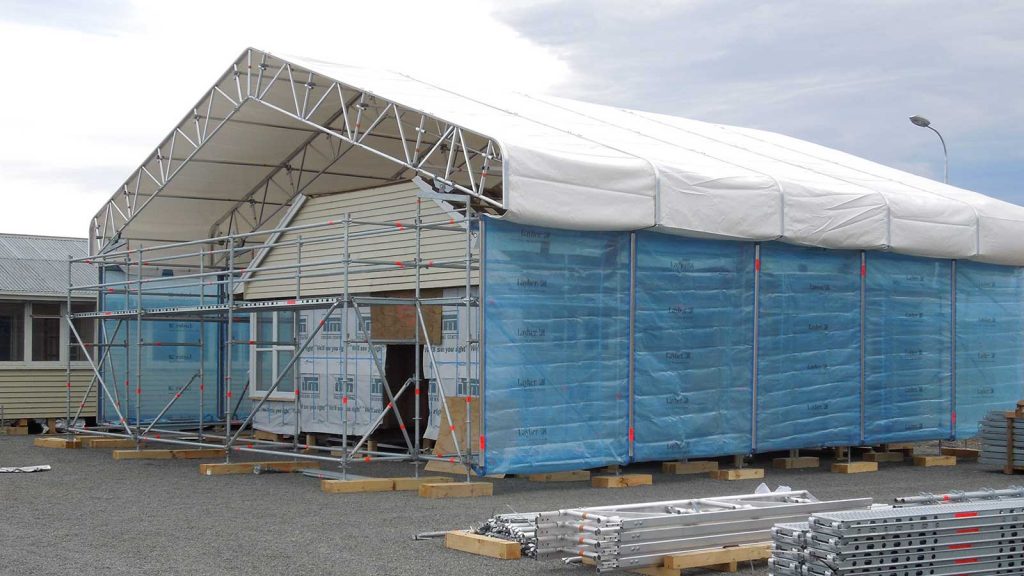 Keder Roof Systems

Impressive weather protection
Easy and safe to assemble
Versatile and cost effective
Impressively wide spans
---
Impressive weather protection
Layher's Keder (PVC roof sheet) Roof Systems are a proven temporary weather protection solution ideally suited to multiple applications in the residential, commercial, industrial, infrastructure and event sectors.
The roof system provides a quick, economical, and easy-to-assemble solution to meet a diverse range of weather protection applications. The system is also modern and visually appealing, making it a great option for applications where site aesthetics are an important factor.
---
Easy and safe to assemble
The Keder Roof System's aluminium construction makes it lightweight, easy to handle and significantly reduces assembly and dismantling times when compared to traditional protection methods. It also offers a safer means of installing roof sheets by removing the need to work on the top of the structure.
The key to the system's rapid assembly is its claw connection, truss stiffeners and PVC roof sheet installation (pulled through a track). Bracing typically is installed on every fifth truss, greatly increasing assembly and dismantling efficiency.
---
Versatile and cost effective
Because it is fully compatible with the Allround Scaffolding system the Layher Keder Roof system is one of the most versatile and configurable prefabricated weather protection systems available. The flexibility of the system enables you to create protective roof structures, or to combine it with sheet wall components to expand the system into a fully enclosed hall.
The cleverly designed Keder Roof System remains very cost effective, and the system's modular design, with just a small number of truss and bracing components, offers significant savings in build time and labour costs.
---
Extra wide spans using Keder Roof XL
The latest addition to the Layher roofing range – the Keder Roof XL – enables you to create even greater spans. The XL shares many qualities with its predecessor, retaining all the Keder Roof System's installation, weight and versatility advantages.
The Keder Roof XL enables you to configure the system for light, standard or heavy-duty bracing applications. Depending on the location and loading conditions it is possible to create unsupported roof spans over 26m. It's even possible to create arched or domed installations, making them an incredibly versatile and capable addition to the Layher roof system options.