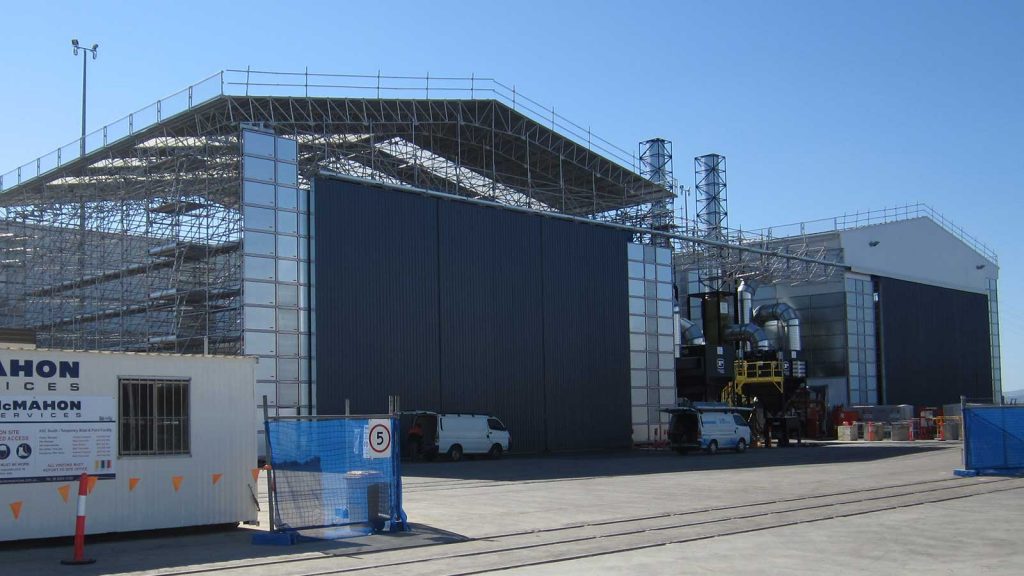 Steel Cassette Roof System

Extra large spans
Durable weather protection
Easy access for materials
System independent
---
Extra large spans
Layher Cassette Roofs have established themselves as a firm favourite for large roof span requirements and long duration construction projects. Depending on the location and loading conditions, it is possible to create unsupported roof spans over 34 metres!
---
Durable weather protection
The Layher Cassette Roof is impressively robust. Its practical design, coupled with quality hot-dipped galvanised materials, are key reasons why it retains its value over many years. The roof truss bays are assembled astonishingly quickly at ground level, then mounted on the supporting structure, one bay at a time, using a crane. The roof cassettes for the intermediate bays are inserted into a channel section and locked in place with clamping plates and wedges. That's all there is to it!
---
Easy access for materials
To permit construction material supply to the area under the roof, the Layher Cassette Roof can be opened at any location by simply removing one or more roof cassettes. No crane is needed.
---
System-independent
The Layher Cassette Roof does not require any specific substructure. This means that no unwanted additional investments are required. With some additional material and engineering the Layher Cassette Roof can be mounted easily on almost any scaffolding or other suitable substructure.