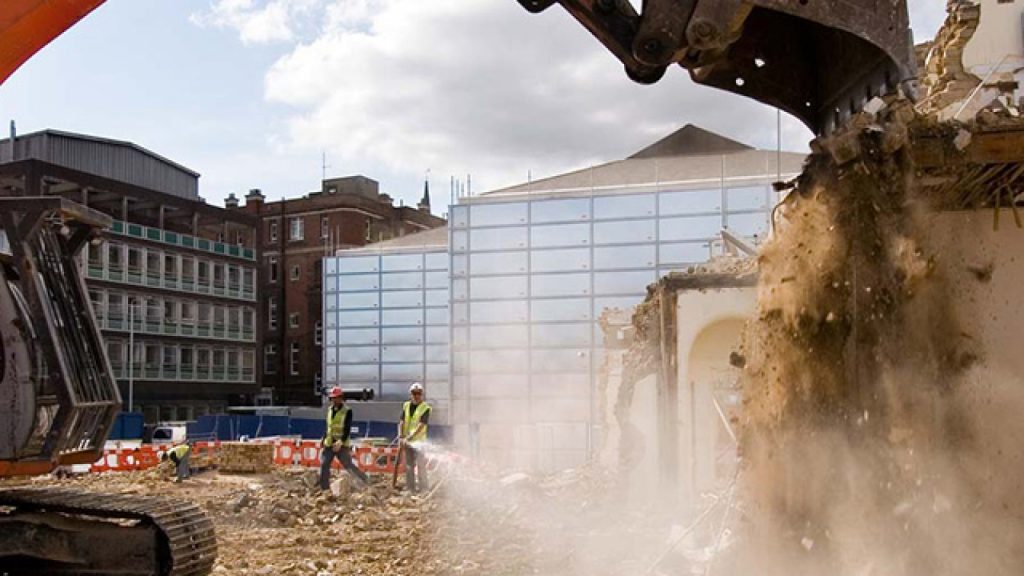 Protect Cladding System

Cladding solution for Allround Scaffolding
Protection against site hazards
Excellent noise control
Quick and safe to install
---
Cladding solution
Layher's Protect System is a comprehensive weather, cladding and hazard protection solution.
The system's fully enveloping design creates a protective skin around the site, protecting workers and the public from hazards, and providing an effective means to control noise, dust, and other environmental contaminants.
---
Protection against site hazards
The Layher Protect System uses a rubber seal to form a water and dust resistant barrier around its outer perimeter.
This makes it suitable for an almost endless variety of construction uses. These include weather protection, controlling demolition dust and other particulates. The Layher Protect System is very well suited to environmentally sensitive projects such as façade cladding installation and sandblasting operations.
The lightweight system provides physical protection with wall cassettes constructed using aluminium frames and either thin sheet steel or translucent plastic panels. This places a strong barrier between work spaces and pedestrians, guarding against falling debris and other site hazards.
The Protect System is an extremely effective way to meet your weather protection requirements, hazard reduction and environmental protection obligations in a single comprehensive solution.
---
Excellent noise control
In addition to its physical protection capabilities, the Layher Protect System also offers very good acoustic insulating characteristics.
The system's steel-sheeted panels deliver a noise reduction of 26 dB, with a further reduction when in combination with Layher's sound insulation matting.
This makes the Protect System ideal for reducing noise levels for many applications such as public events, public assembly buildings, airports and for new and existing building sites where noise pollution controls are required.
---
Quick and safe to install
The Protect System's logical construction sequence ensures it is assembled and dismantled quickly, easily and with absolute safety.
Like our other protection solutions, the system is universally compatible with Layher's Allround Scaffolding system, making it the natural addition to your scaffolding portfolio.
Don't take risks with safety or use more cumbersome and less economical cladding solutions. You can trust the Protect System to not only keep your employees, the public and the environment safe, but protect your livelihood at the same time.