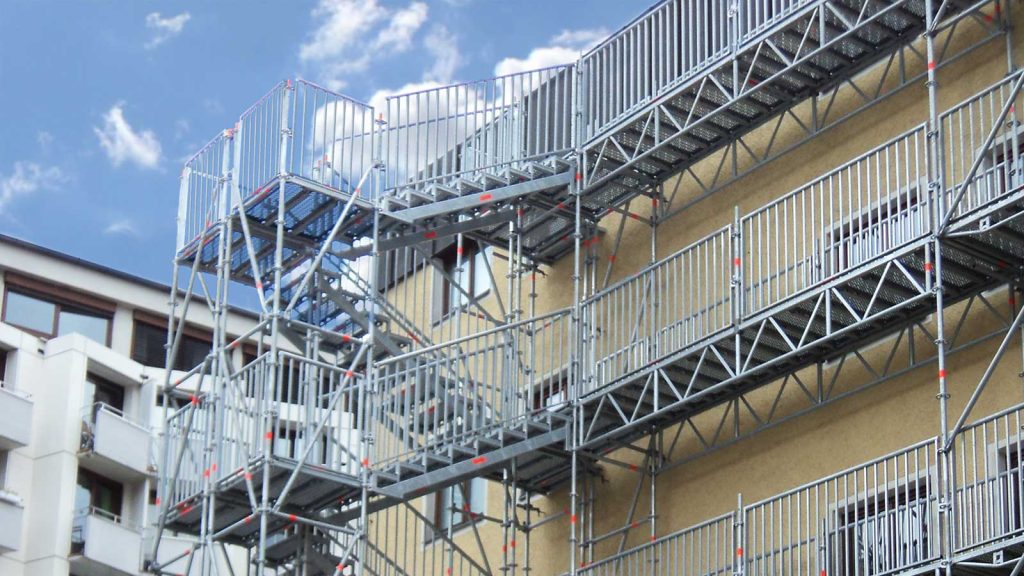 Temporary Stair Solutions

Comprehensive range.
Aluminium platform stairs.
Construction site and public access stairways.
Craneable stairs.
Modular stairs.
---
Comprehensive range
Layher's stair solutions offer temporary access for a variety of applications. From public access stairways to aluminium platform stairs or stretcher stairs. Layher has the right solution for your access requirements, no matter which scaffolding system you use.
Each component seamlessly integrates with the Allround Scaffolding system, making Layher's stairway options the ideal choice to extend the access capabilities of your existing scaffolding solution. Layher's stair solutions can also be built as independent towers, to provide cost- effective outcomes on projects which do not require a scaffold work platform.
---
Aluminium platform stairs
Layher's Aluminium Platform Stairs are stable and lightweight, yet very strong. They are fast to assemble and dismantle, and are fully compliant with all Australian safety requirements. A cost-effective and safer alternative to ladders, these stairs improve efficiency on site and are ideally suited for small to medium sized construction projects. Available in heights of 1m, 1.5m and 2m.
---
Aluminium platform stairs, stretcher stairs, and public access stairways
The versatility and robustness of Layher's Allround stairway towers 200, 500 and 750 makes them an extremely capable solution for quick, safe and convenient access for even the most challenging construction site and public access requirements.
---
Craneable stairs
All Layher stair types may be designed to be lifted by crane. However, specially designed Allround standards (2.21m) also enable the assembly of complete stairway modules on the ground. The modules are then positioned, level by level, complete with installed stair flights, using a crane or hoist.
Hinged pins or special bolts (M12x60) create a positive connection between each module. Once complete, the tower may easily be repositioned without being dismantled.
Stair landings may be exited on the right side, the left side or straight ahead, depending on your application and the orientation of the tower.
---
Modular stairs
To complete the range, Layher also offers the extremely versatile and durable Modular Stairway system.
Made of hot-dip galvanised steel the stair is constructed using one head-step (top), one foot-step (bottom), and as many intermediate steps as needed to reach the desired height.
---
Contact us now to start your partnership with Layher.
---
LIGHTER. FASTER. STRONGER. LAYHER