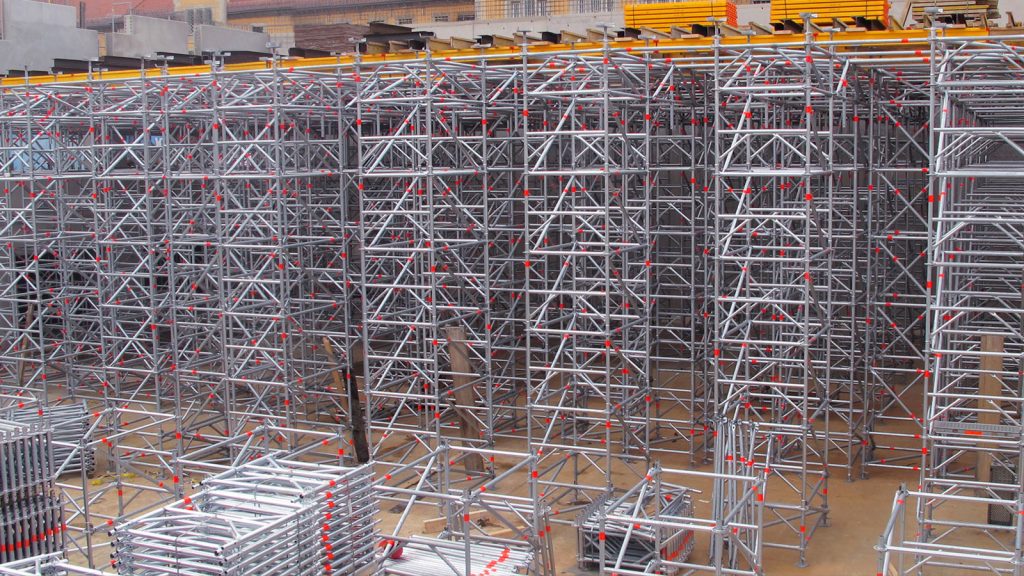 Allround Shoring TG 60

High-capacity propping
Maximum flexibility (integrated with Layher Allround
Easily repositioned
Multiple safety features
---
High-capacity propping
Layher's Allround shoring system,TG 60, is a high-capacity propping solution. Each component in the TG 60 frame is manufactured using high-tensile steel, and employs two integrated diagonal braces to increase strength and stiffness. The braces use a symmetrical design, so there's no need to orientate them or install additional diagonal braces during assembly.
The components use the Allround Scaffolding system's auto-aligning rosette and integrated spigots to allow you to secure the shoring frame using hinged pins, locking pins or bolts. For high-load applications, it's possible to couple several TG60 frames together to greatly increase load capacities. The result is a very capable shoring solution that reaches the heights you need while remaining sturdy and safe. Every vertical standard has a load capacity of 6 tonnes.
---
---
Maximum flexibility
Designed as an extension to the Allround Scaffolding system, the self-supporting TG60 system combines versatility, robust design and easy assembly to create a highly configurable shoring structure that is efficient to handle and transport.
---
Easily repositioned
The Allround TG 60 system's strength and weight provides several assembly and deployment options. TG60 maybe be assembled in place or horizontally pre-assembled on the ground as a stand-alone structure, before being lifted into place by a crane or hoist. Once erected, a fully assembled tower can be quickly and efficiently repositioned using castors – no dismantling required. It's even possible to move entire tower groups in a single operation.
---
Multiple safety features
Layher's TG 60 system is very stable, and particularly suited to rapid installation of high soffit support systems where load-capacity and stability are required. During vertical assembly, decks can be mounted as assembly units. Then the frames, ledgers and diagonal braces of the next tower section can be assembled from within the tower structure, like an advance guardrail, providing very effective fall protection.
Other safety benefits:
Reduced weight means less risk of sprains, strains and lost time – the heaviest component weighs 18kg.
Craning and repositioning using castors and castor adaptors reduces erection and dismantle work, helping to minimise the risk of injury.
Fabricated frames reduce the number of components and add lateral stability.
---
Contact us now to start your partnership with Layher.
---
LIGHTER. FASTER. STRONGER. LAYHER