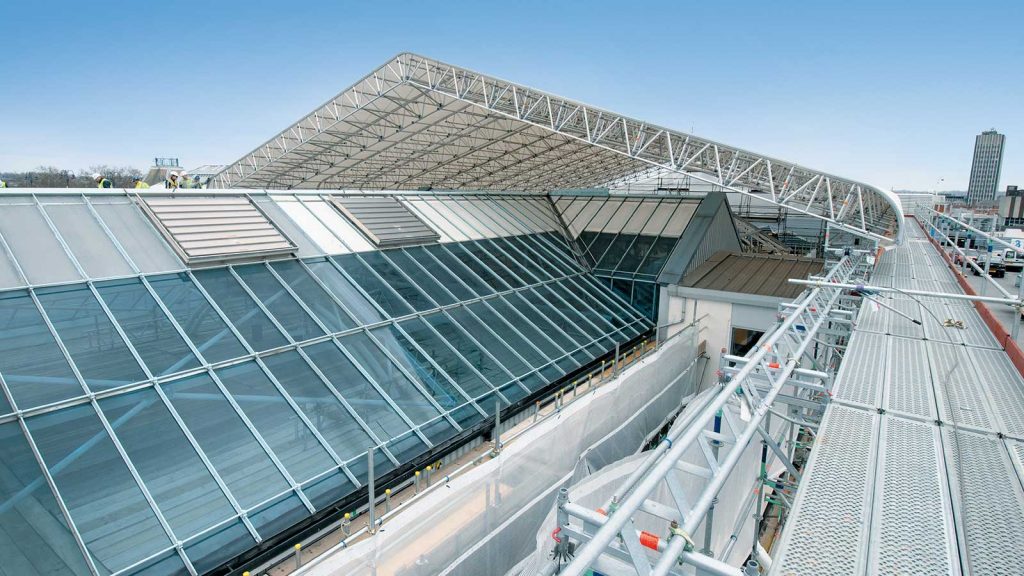 Mobile Roof System

Save material and time
An innovative mobile solution
Safe installation
Immediate response
Ideal for progressive projects
---
Save material and time
Layher's Mobile Roof System is the ultimate in lightweight and portable weather protection. The system enables you to reposition the entire protection roof, or it can be split into sections with ease to allow access through the roof opening. The system offers significant savings in build time and labour savings and is ideal for a wide variety of construction applications.
---
An innovative mobile solution
The Mobile Roof System offers unique advantages. Central to the mobile roof concept is the innovative roller trolley. The roller trolley mounts the roof system on purpose-made nylon runners which fit onto horizontal steel guide rails fixed to the support scaffolding system. The roller trolley runs smoothly along the guide rails enabling lateral roof movements whilst keeping the roof captive on the rails until secured in the desired stationary position.
---
Safe installation
Inherent to the design of Layher's Mobile Roof System is that it reduces the amount of building and alterations required on temporary roofs, and consequently the risk of falls.
Where space permits, mobile roofs can be built from the safety of a working platform assembled at a gable-end. Each bay can be assembled directly on the guide rails and rolled out. Stripping operations simply follow the reverse procedure.
---
Immediate response
Once assembled, the Layher Mobile Roof System can be repositioned quickly, conveniently and with minimal effort. For projects that require opening of the roof, the mobile system can be configured so sections of the roof structure open independently, allowing temporary access to lift material through the roof opening.
The Mobile Roof System's lightweight modular construction provides an efficient and cost-effective mobile weather protection system to meet your changing project requirements.
---
Ideal for progressive projects
The Mobile Roof System is a natural choice for your existing Layher Allround scaffolding roof support system.
The mobile system's low weight and effortless repositioning features make it the stand-out choice for construction applications that involve progressive work such as re-roofing projects.