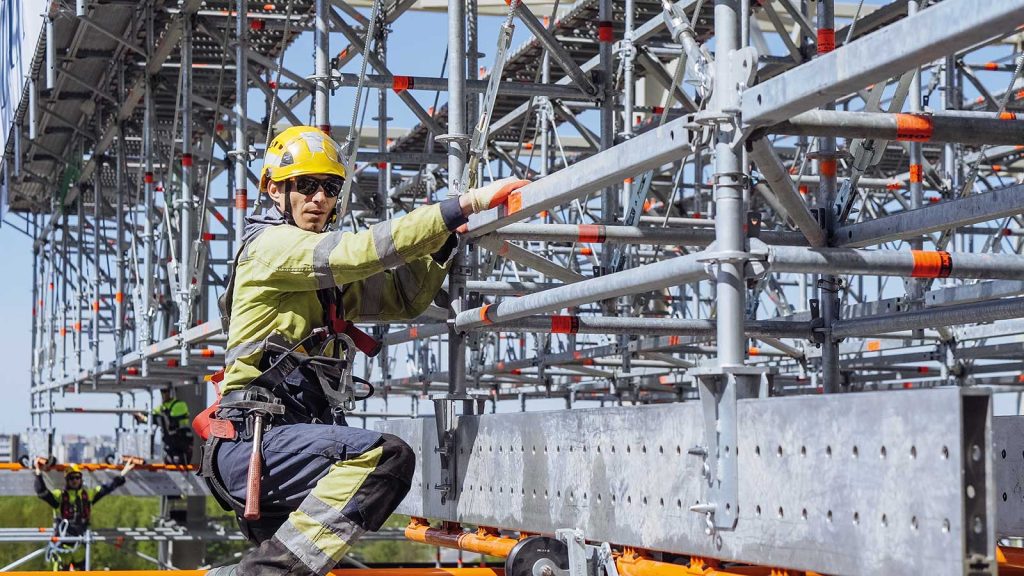 Invest in the right solution

Smart choice for profitability
Quality that won't let you down
There when you need support
---
Smart choice for profitability
Layher provides the fastest, lightest and most reliable scaffolding solutions on the market. That translates to a system that works for you, not against you.
---
Productivity
One of the main benefits of choosing Layher systems is productivity.
Weight saving Layher goes to considerable effort to achieve reductions in the weight of its scaffolding systems. In the case of Layher's Allround Lightweight (LW) Scaffolding system, weight savings can be greater than 40% when compared to alternative systems in the market.
Reduced number of components Through its commitment to innovation, Layher has achieved reductions in the number of components required to assemble scaffolding structures. Examples include reductions in the number of decks, ledgers and braces.
Manufacturing tolerances Layher products are manufactured to very tight tolerances. Layher product users do not suffer from delays associated with the poor fit of components – or from components that are simply defective. Layher takes great pride in manufacturing to extremely high-quality standards and that is central to the group's philosophy.
---
Total cost of ownership
Maximising profits isn't just about the initial scaffold purchase, it's about total cost of ownership. Most scaffolding businesses spend around 80 per cent of their operating costs on labour and transport. E.g. assembling and dismantling scaffolding, loading trucks, driving between yard and site, and carrying scaffold parts on site. That's why even a small efficiency gain can have a big effect on your profit.
The lower weight and efficient transportation of Layher's scaffolding solutions translates to faster, safer and more cost-efficient component handling. Layher scaffolding systems are rapid to assemble and dismantle, and more economical to transport. This means less downtime and greater returns for your business.
---
Quality that won't let you down
Your clients demand the best and you need the right tools to get the job done.
Layher scaffolding solutions are designed, tested and precision engineered with reliability and ease-of-use in mind. We use the highest-grade materials and state-of-the-art manufacturing processes to ensure an unparalleled degree of fitting accuracy. This is an advantage that not only makes your job easier, it reduces assembly and dismantling time and extends the working life of your investment.
For a consistently high-quality scaffolding solution that won't let you down, choose Layher.
---
There when you need support
When you deal with Layher, you're dealing with the world's largest manufacturer of scaffolding solutions, right here in Australia. Our team of experienced, Australian-based experts understand your business and have the know-how to provide you with the most reliable and economic solution on the market.
With the largest stock of scaffolding in the country, Layher can dispatch most requirements within a few days, nationwide. We also offer comprehensive technical and engineering advice plus design services to support you and your business when you need it. In short, Layher has the solutions, knowledge and capability to make a difference when it really counts.
---
Contact us now to start your partnership with Layher.
---
LIGHTER. FASTER. STRONGER. LAYHER