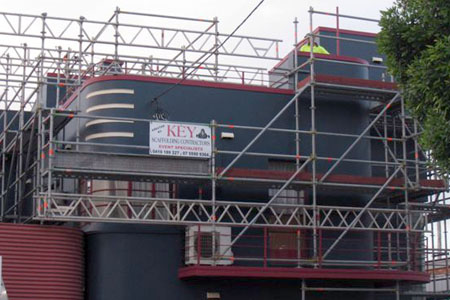 Double cantilever with drop
Key Scaffolding had the challenge of scaffolding this intricate building for a local painting contractor. Using Layher scaffolding with its components such as spigots with half-coupler, and rigid, swivel and twin wedge couplers proved very handy for such a brain teasing job!
By the time the scaffold was handed over the scaffolders had a structure that was suspended from rostrums on the roof and with propped bays under the balcony. It then cantilevered in multiple directions and around a corner where it picked up another drop scaffold with Layher 8m aluminium beams. All this was done by five men in two days between the recent rain periods.
Thank you to Peter Lazer, Managing Director of Key Scaffolding for the use of this photo.