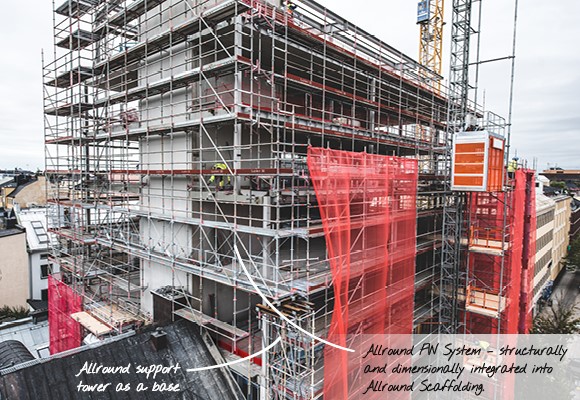 Layher Allround FW System in use: A quickly assembled 14m bridge
The Allround Scaffolding system was used to provide façade access to this ten-storey commercial property. Due to the limited support capacity of the adjacent building's pitched roof, a bridging design was required. The new Layher FW System provided the perfect solution. Just two hours was all it took for scaffolders to pre-assemble a 14 metre-long bridge structure on the ground.
The bridge was then lifted by crane and positioned onto two Allround scaffolding support towers. Conventional Layher Allround façade scaffolding was then erected above the FW System bridge, and was also suspended below the bridge to provide access adjacent to the pitched roof. By means of the new Layher Allround FW System, it was easy to provide this efficient solution to address a tricky site problem.
Layher Allround FW System – Your benefits at a glance
High load-bearing capacity owing to the structural height plus strong and sturdy individual parts made from hot-dip galvanised steel.
Limitless applications: bridging beams; platform beams; cantilevered beams; and, with the incorporation of a few additional components, roofing structures.
Easy handling: 17.4kgs for the heaviest FW System component.
The FW System integrates seamlessly with Layher Allround scaffolding: components are perfectly aligned with one another on all three axes.