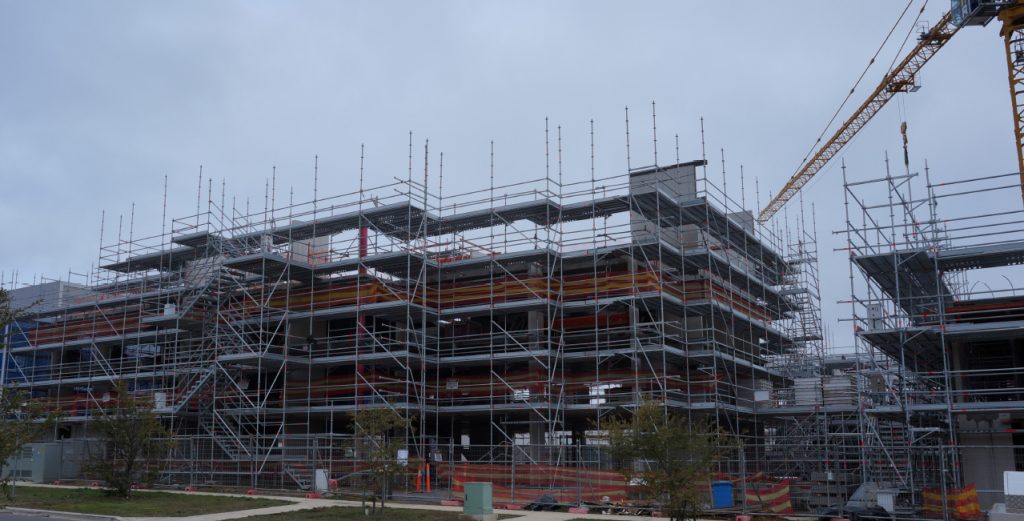 Major residential facade access
Layher Allround offers a wide range of access solutions within the residential construction sector. Layher Allround's strengths in quality, safety and efficiency are on display in this traditional façade scaffold installed by Alto Scaffolding.
Alto Scaffolding have been successfully using Layher Allround for the past 2 years, delivering safe and efficient scaffolding solutions to many of the ACT's large commercial and residential projects.
This project involved façade access in the development of four new 5 storey apartment blocks within one of Canberra's major residential developments. The working area of this 3,000m² scaffold comprises Layher's 1.4m bay width, plus 0.73m console brackets to accommodate finishing trades. Stair access solutions included Layher's lightweight Aluminium Platform stairs and also Layher's 500 series stretcher stairs.
Alto Scaffolding's Director, Maurizio Rao, said "What we can achieve with Layher Allround is remarkable. Our clients love the system's finish and versatility – and we love the speed at which the product can be installed and dismantled. Fewer components and less weight also means savings on logistics."
Thank you to Alto Scaffolding for the use of the ABOVE photo.