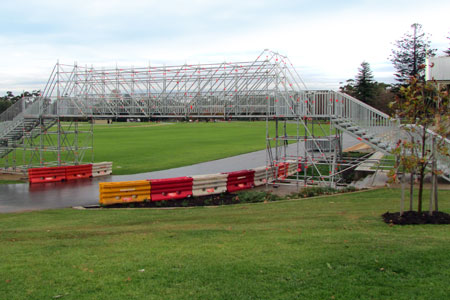 Pedestrian bridges using Layher Allround
The Pedalprix event was recently held in Adelaide's Victoria park on the track used as part of the V8 Supercars circuit. To accommodate the movement of spectators over the track, two 12m long Layher Allround public access bridges were assembled.
The photographs were taken during construction and feature bridges comprising two x 1.4m wide walkways attached together using twin-wedge couplers. The bridges were fitted with child-proof guardrails, gap-decks and 750 stair-stringers to complete these two impressive structures.
Caledonia Scaffolding's scaffolding supervisor, Kenny Smith, commented that "Layher ALLROUND is so much quicker and simpler than the Kwikstage product that we usually build". The bridge structures were assembled in one working day by 4 men.
Thanks to Kenny Smith from Caledonia Scaffolding for providing the photos.