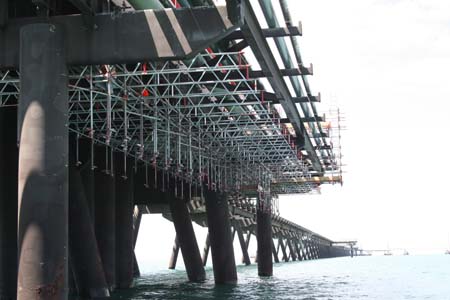 Port Bonython Jetty
Port Bonython Jetty, which is owned by the state government, is a 2.4km long jetty making it the largest in South Australia. The loading facilities at the jetty are operated by Santos.
Caledonia Scaffolding built this hanging scaffold on Port Bonython jetty for cable tray installation. During the build Caledonia used 8m long Layher aluminium beams. Caledonia's use of the beams reduced the amount of tube and fittings required for the job and being light and easy to use reduced manual handling issues associated with traditional heavier steel beams. Caledonia Scaffolding will be carrying out further works at Port Bonython Jetty as part of the DTEI's jetty refurbishment.
Thank you to David Stephen, General Manager of Caledonia Scaffolding Services for use of this photo.