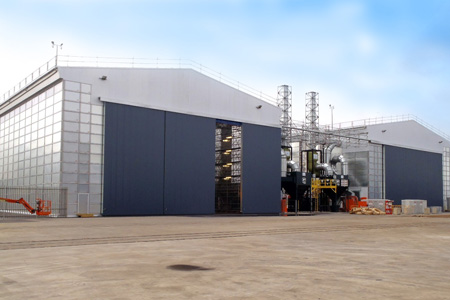 Protect paint project
A facility for carrying out the blasting and painting of ship modules was required for a major project being undertaken by ASC in Adelaide. Layher's Steel Cassette Roof, Protect panels and ALLROUND were combined to create a large encapsulated work area in the fraction of the time required for a permanent structure. Each of the "building's" measured 30m long x 30m wide and 13m to the eave and were linked by a 21m bridge that was also used to support the monorail for the sliding doors.
The steel cassette roof was built in modules by TLT and craned into position and had three of the bays fitted with translucent panels to promote natural light. Over 600 wall cassettes were required in total to complete the project which took two months to build.
Thank you to Warrick March for use of these photos.