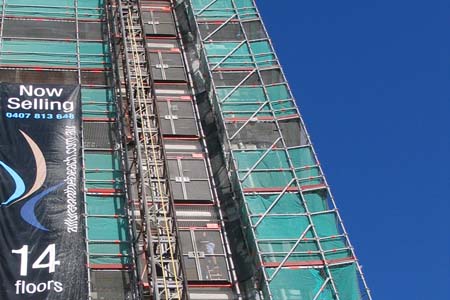 Scaffolding Allure Apartments
One of Action Scaffolds' first projects using Layher scaffolding was this 14 storey scaffold on the "Allure" tower of luxury apartments right on the beach at Surfers Paradise, Queensland.
The scaffold enabled Glenzeil, the contractor, to tile-clad the façade as well as install hand rails and window hoods. The scaffold itself was 42m high with 3m lifts. It had to cope with obtuse and acute angles at either corner of the building as well as columns projecting past the slab edges.
Console brackets were required 500mm below the main decks. All this installed around a pre-installed hoist. The scaffold was designed by our Draughtsman Tom Fyfe and our Senior Technical Advisor, Jens Mingramm, assisted with the base-out.
Thanks to Ross Wilson of Action Scaffolds and Paul Garland of Glenzeil for the use of this photo.