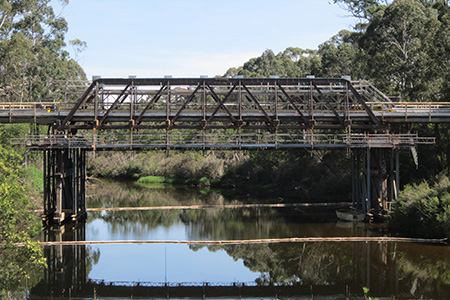 Suspended scaffold on a 113 year old bridge
When a 113 year old timber bridge is in need of emergency repairs, Layher ALLROUND provides the ideal solution. Charleyong Bridge is situated between Canberra and Nowra and was built in 1901. The bridge still contains its original timber members. When emergency repairs were required, Pipeline Scaffolding and Rigging were able to deliver a rapid response using Layher ALLROUND.
By using Layher ALLROUND, the solution was light in weight, safe, economical to transport, allowed for quick and easy installation and minimised the dead loads on the bridge.
Pipeline Scaffolding and Rigging's Managing Director, Clinton Mauger, said "Thanks to Layher ALLROUND's lightweight, high tensile steel, we were able to use 3.07m x 3.07m bay sizes to span the entire bridge. The design needed only 7 bays and still achieved the high loadings that were required. Manual handling was minimised, which was a real advantage when temperatures topped 43°, and the versatility of Layher ALLROUND allowed us easily to build around the bridge piers which couldn't be surveyed before work commenced"