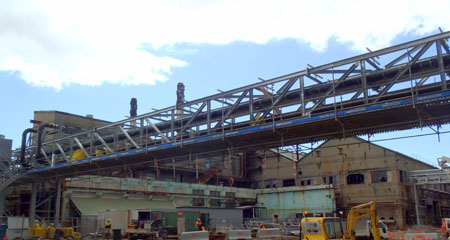 Alphasafe pipe bridge
Alphasafe has been the sole scaffold contractor on site to Metso paper during construction of the Amcor B9 project. This pipe bridge scaffold was over 120 meters long and provided vital connections for services between the old and new mill.
The scaffold also had a cantilevered section, 25m suspended and a 30m hung section. The scaffold was constructed over 4 days using an advanced guardrail technique meaning no harnesses were required.
Mechanical Installation Project Manager, Ian Whalley of Metso Paper (ANZ) Pty Ltd, said "With the experience of the onsite personnel and the backup of the Layher engineering team, and product, they have been able to provide scaffold to overcome difficult installation issues. The Layher product stood out on its own when we were selecting a scaffolding contractor, as it provided us with an engineered system able to achieve results not provided by standard scaffolding systems."
Thank you to Robert Ryan of Alphasafe for use of these photos.