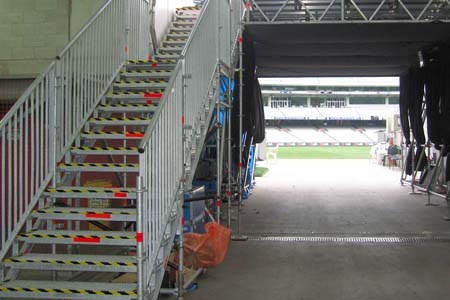 Another week rematch
Clifton Productions were contacted to provide this access stair and stage for the AFL Grand Final at the MCG. The stage, constructed of Layher Allround Scaffolding and Events Decks, was used for the Channel 7 broadcast and match day entertainment which featured the legendary INXS.
Aaron Humber from Clifton Productions said "We use Layher because of its versatility to fit in tight spaces. The Layher Event Decks offer high loadings required for entertainment stages."
Due to St Kilda and Collingwood playing to a draw the stage will now remain in situ for another week for the rematch.
Thank you to Aaron Humber of Clifton Productions for the use of these photos.