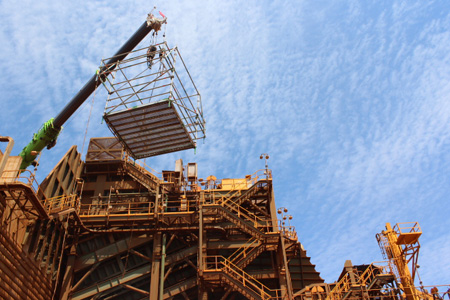 Cantilevered scaffold
Linkforce recently supplied this access for remedial works to ROM beam dampers. Traditionally scaffold was stick built in these situations, exposing workers to heights issues, meaning intricate fall prevention systems needed to be set up. Layher Allround Scaffolding allowed for the build to take place during normal operating hours, at ground level, and to be lifted into place by crane.
The structural capabilities of the Layher system allowed for self-support of the main scaffold from 2 cantilevered bays resting on the outer ROM beams. Once positioned on the beams access was installed allowing Linkforce tradesmen to commence work within one hour of the shut commencing.
The result of using the Layher ALLROUND system was one full shift gained on the ROM bin, a critical area of the shutdown.