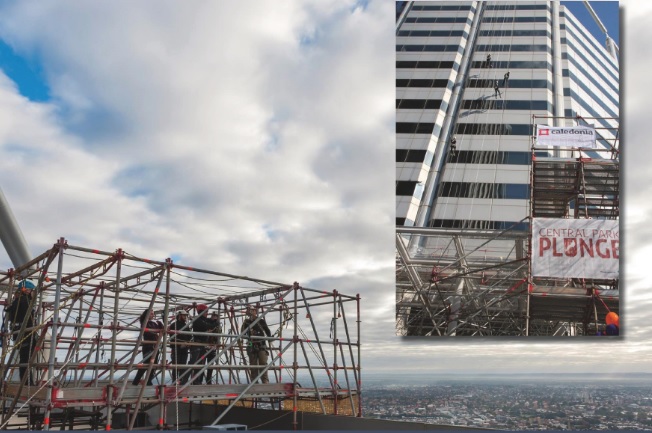 Central Park Plunge
Caledonia scaffolding in Western Australia were recently asked to supply and install an unusual scaffold platform and landing on a landmark building located in the heart of Perth CBD. The design was to enable a group of 300 keen adventurers to take on the 'Central Park Plunge' a unique opportunity to abseil 220m from the roof of Perth's tallest building.
Caledonia chose Layher Allround to construct this cantilevered and suspended exit point with the landing completed using a stringer stair and bays spanning over a glass awning. Four men installed the entire structure within 2 shifts after a trial pre assembly in the yard. The team at Caledonia explained "Layher is the obvious choice, it is the safest and easiest system to use as everything can be assembled very simply. Layher Allround also always offers a nice flush finish".
Great job displayed by the Caledonia Team! Thank you to Caledonia for the use of the above photos.