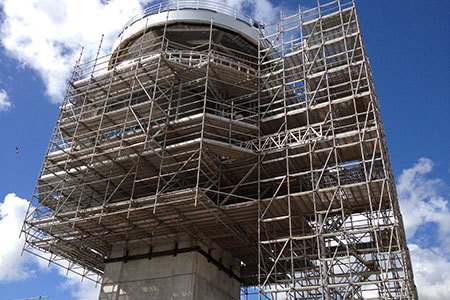 Control tower cantilever
CGE have completed this impressive airfield control tower scaffold, taking cantilevers to a new level! The project involved attaching Layher ALLROUND to a concrete wall, then creating 5 lifts of cantilevered working platforms to allow for the construction of the control tower.
The platforms around the scaffold were completed using Layher ALLROUND corner decks and the scaffolding equipment was safely lifted onto a heavy duty loading bay by means of the Layher 200 materials hoist. Access to the scaffold is via a Layher aluminium platform stair which extends the full height. The structure has been built in stages over a number of months.
John Onley, Managing director of CGE Hire said "The client was looking for a way to pin the scaffold to the structure and Layher was the only way for them to go. By the way, we plan to invest in a few more of those corner decks – the boys love them."