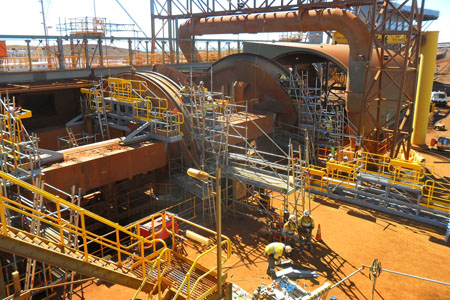 Craneable Allround Scaffold
Linkforce Engineering were engaged to undertake a double car dumper shutdown, this encompassed all rolling rails to be replaced along with trunion sets and spill faces.
Due to the car dumper needing to be rotated, Layher Allround was an obvious choice as it could be craned in and out reducing time on erection and dismantle and also allowed minimal work at heights and 50% less labour then previous shutdowns.
15 tonne of Layher Allround was used and was transformed into over 60 scaffolds. It took 12 men, 6 days and 6 nights over a 10 day period to erect and dismantle the 60 scaffolds.
Thank you to Liam McGeever from Linkforce Engineering for the use of these photos.