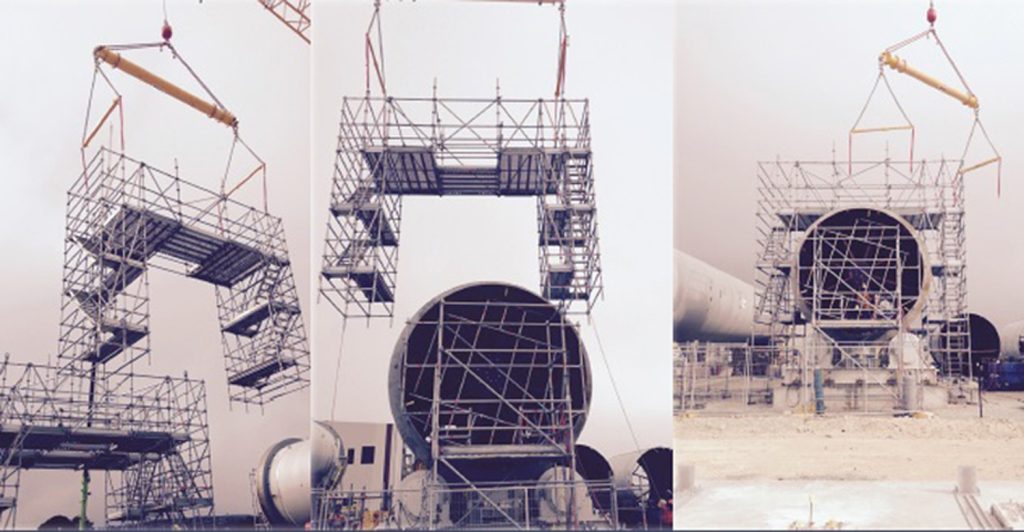 Craneable Layher Scaffold Splice Station
Layher Allround scaffolding was erected to allow access for welders to splice sections of this 4.5m diameter pipe during the construction of digesters in Goulburn, NSW.
Four identical scaffolds were constructed by 5 scaffolders over three 10 hour shifts. The structures were then lifted over the top of the pipes and positioned onto pre-constructed base lifts of scaffolding. The ability to prefabricate the scaffolds and then crane each assembly into position allowed multiple operations to occur onsite simultaneously.
The scaffolds were constructed without the use of any ladder beams because they incorporated the Layher Allound scaffolding system's braces. These load-bearing braces contributed the required strength and stiffness to the structures. Additional efficiency and flexibility was achieved by using Layher Allround's deck-to-deck and deck-to-ledger transoms. These components produced easy access to both the edge and centre of the deck. The result was an efficient working environment when welding pipe sections together.
All four scaffold towers were relocated throughout the process of splicing the pipe sections. The ability of the Layher Allround system to be craned in and out of position on each move was a great benefit to the project. Relocating the scaffolds required only two scaffolders to pre-construct the base lift onto which each tower was positioned.
A job well done by the Downer Group! Thank you to Justin Longobardi for the use of the above photos.