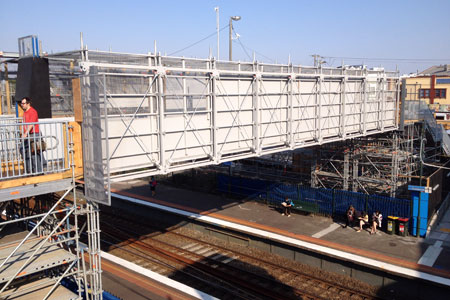 Footscray footbridge scaffold
The ALLROUND bridging system has been used to create two 18m long pedestrian walkways over rail lines in Melbourne. The pre-assembled bridges were elevated into the exact positions using a crane.
The bridges link up with the public access ramps and stairs that are constructed from Layher ALLROUND with Event decks and child proof guardrails fitted.
The free standing structure is 2.07 wide and has been fitted with a GPS marker to monitor its stability. John Onley, CGE Hire Director, reports that the maximum movement recorded thus far has been 8mm.
Thank you to John Onley of CGE Hire for the use of these photographs.