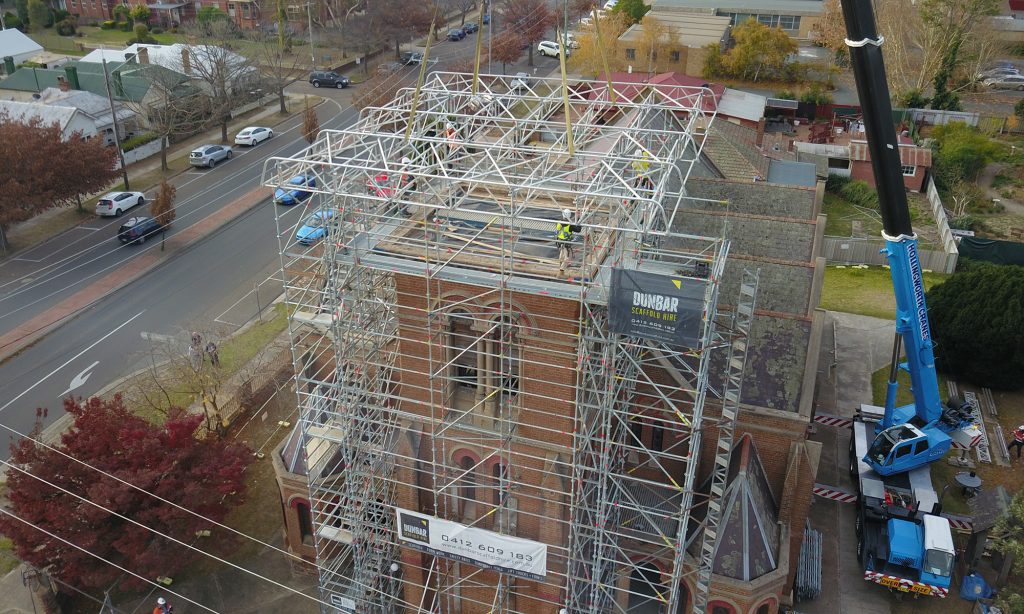 Goulburn Uniting Church Spire Replacement
Dunbar Hire of Bathurst provided access to allow for the replacement of the Goulburn Uniting Church spire. The project first required a Layher Allround access scaffold to dismantle the existing spire. Once dismantled, the scaffold was stripped, and a Layher Keder XL roof was assembled at ground level and then crane-handled into position to provide protection from inclement weather.
When the replacement spire is ready for installation, it will be craned into position and the scaffolding will be reassembled to allow for finishing works to be carried out. Dunbar Hire's use of Layher Allround scaffolding and Keder XL roofing, combined with clever design and skilled scaffolders, has achieved safe and efficient progress for their client.
Jordan Robinson, Managing Director of Dunbar Hire, commented: "Our client has been impressed with our ability to deliver in accordance with our assurances and our scaffolders have thoroughly enjoyed working with the excellent Layher products.".
Thank you to Jordan Robinson for the use of these photographs.