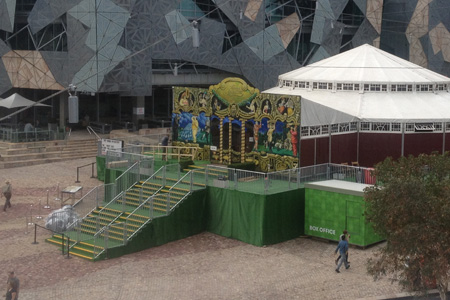 Laughing with Layher
The Melbourne International Comedy Festival is one of the largest events of this type in the world, attracting performers and audiences from far and wide. The event is centred around the heart of Melbourne CBD where Element Rigging has installed this Layher ALLROUND stage to support the famous Spiegeltent where an audience of 300 people can enjoy the show in Federation square.
The stage was constructed from Layher ALLROUND and has over 500m² of EV decking complete with child-proof guardrails. The access is via a 'grand staircase' constructed using 750 stringers and 1.09m landings that were clad by the client. The scaffolding substructure was installed by 7 men in one 10 hour shift.
Rob Irwin, Director of Element Rigging, said "I take a lot of pride in the perfection of our finished products, you guys are like-minded and have helped deliver a finished product that myself and my team are really proud of."
Thanks to Rob Irwin of Element Rigging for use of these photos.