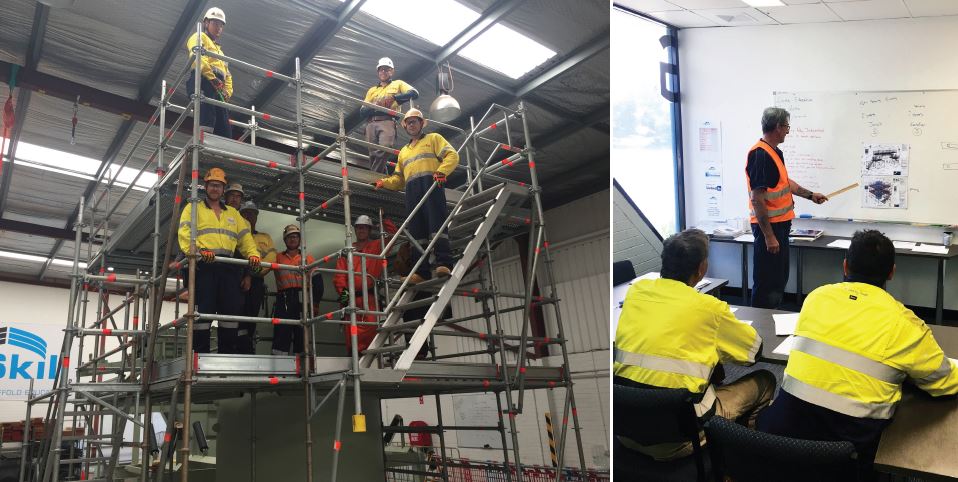 Layher skills training WA
Layher recently was invited to attend the HiSkill training facility in WA to observe and audit the delivery of HiSkill's Layher Allround Skills Training course. This was a 3-day event attended by 8 scaffolders with different levels of experience in the use of the Layher Allround scaffolding system.
The course content is designed to improve scaffolders' knowledge about Layher Allround, in particular expanding their capabilities in safety and efficiency. It was encouraging to see the trainer presenting safe build methodologies and discussing techniques that eliminate the risk of falls.
The course training included classroom-based instruction together with practical building exercises based on designs prepared by Layher's technical department. Practical work included façade scaffolds, curved structures, cantilevers and bridges.
At the end of the course all attendees sat through a 3-part written assessment and also undertook a practical assessment. The practical component included scaffolding the external face of a vessel – with no input or advice provided by the instructor. It was rewarding to see all participants complete both assessments satisfactorily.
Layher is pleased to see the HiSkill Registered Training Organisation (RTO) in WA provide this level of training to the scaffolding industry. If you are looking to improve your knowledge in Layher Allround scaffolding, particularly the system's capabilities in safety and efficiency, then contact your local Layher representative to discuss training opportunities.
Thank you to HiSkill for the use of the above photos.