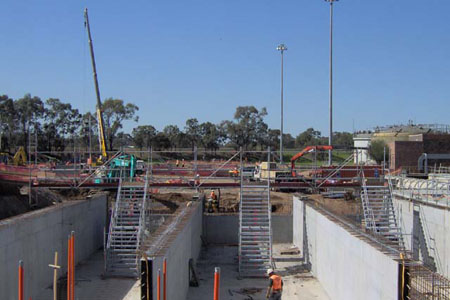 Liverpool sewerage treatment plant access
This elaborate access built by Pipeline Rigging into three adjoining sewerage tanks at Sydney Water's new Liverpool STP not only allowed the contractors easy access into the tanks but also changed Sydney Water's working environment from a confined space to a regular job site.
BThis negated the need for constant Confined Space supervision and allowed the job to flow faster and more smoothly. The job comprised three 1.57m wide stairs, built on Allround stringers, dropping 4m into the tanks with 5.14m bridges suspended over the wall of each with diagonal bracing.
Thank you to Dean Mangold for the use of the photograph.