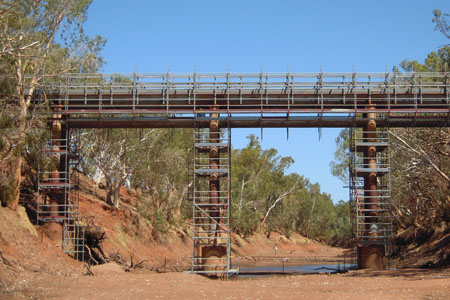 Minderoo Bridge
Spanning 75 metres across the Ashburton River, the Minderoo Bridge is in a remote part of Western Australia. As the bridge is over a site sacred to local Aboriginal people, a requirement of the job was not to disturb the ground below the bridge. Hence the scaffold has been suspended from the top of the bridge and hangs down to just a few centimetres above ground level.
Built by Orvad (WA) for the Savcor Group, this Layher scaffold was for refurbishment of the bridge with blasting, painting and concrete repair works. Almost 50 tonne of scaffold was erected by 8 men in only 5 days in temperatures reaching over 50 degree celsius on the bridge. Time was critical as next month the cyclone season starts and flash floods can see water levels reaching 10 metres in a matter of hours.
Thank you to Paul Orvad and and Grant Humphreys of Orvad (WA) Pty Ltd for the use of these photos.