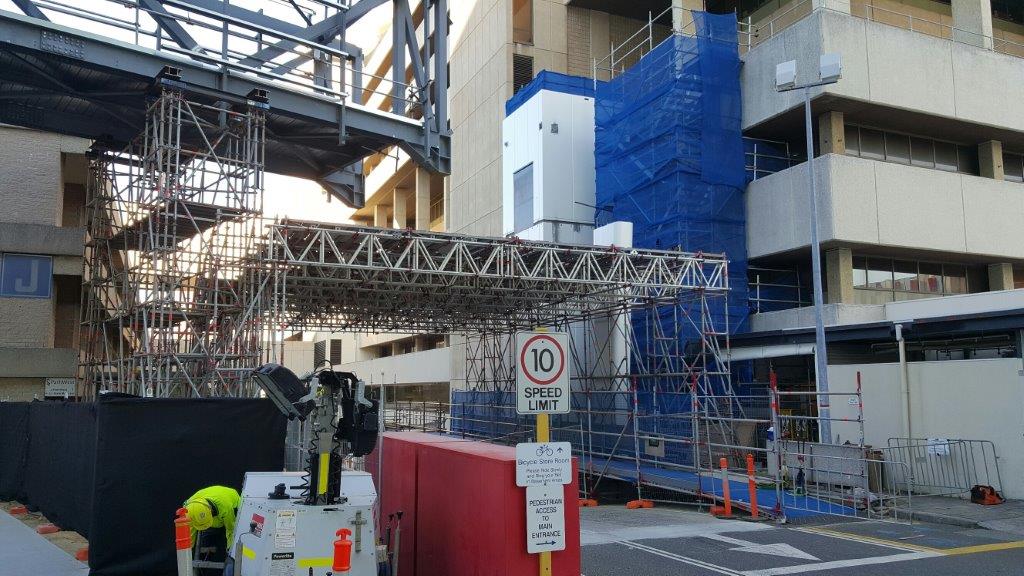 Perth Children's Hospital
John Holland needed an 80t capacity propping tower to allow them to construct a link bridge from the existing hospital to the new hospital. Additionally, there was a requirement for an overhead protection gantry to protect an access way for ambulances during construction.
The initial design for the propping tower consisted of one built from structural steel. John Holland approached Caledonia Scaffolding to design an overhead protection gantry that would not interfere with their propping tower.
However, Caledonia responded to John Holland with an alternative proposal. Caledonia presented a preliminary design to achieve both the overhead protection gantry and the propping tower by means of the Layher Allround scaffolding system. The proposal was accepted and was thereafter fully designed and constructed by Caledonia. One notable feature was the assembly of modules in a separate yard. These were then trucked to site and crane-handled into position.
Feedback from the client was that the work was 'exceptional'. An imaginative job well done by the Caledonia team!