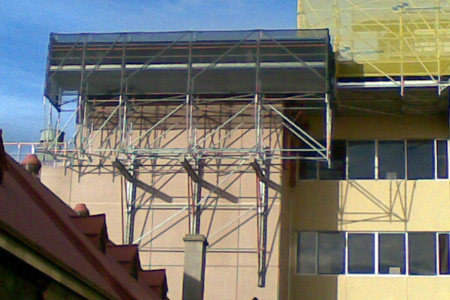 Pre-cast panels cantilever scaffold
Scaffolding was required around the stairwell of Adelaide Hospital, South Australia to complete external finishes. Due to the fact the stairwell was constructed of pre-cast panels and built adjacent to boundary line buildings TLT Access used Layher Allround to construct this encapsulated solution.
Comprising of 2.57 x 1.09 bays installed on supported slims Matty Witana used Crane, man cages and his extensive Layher experience to install this cantilever in a single 10 hour shift.
The scaffold had to marry up with previously erected Allround bays. After pre-setting the u-head jacks and some last minute adjustments only a 5mm height difference between the two scaffolds remained.
Thanks to Matty Witana and James Tekeu Paitai of TLT Access for use of these photos.