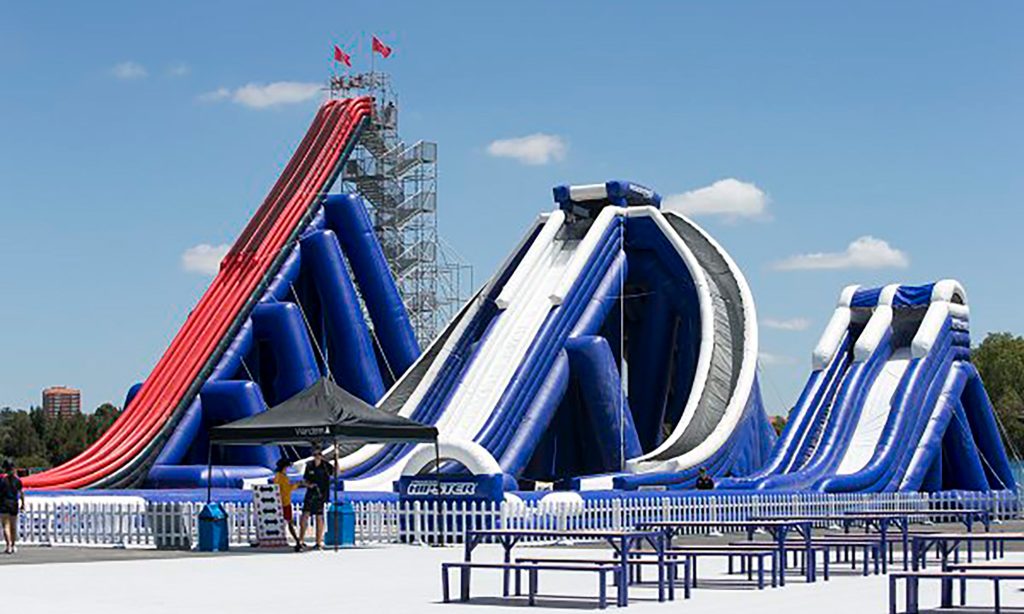 Scaffolding the World's tallest inflatable waterslide
When Splash City decided to create Australia's first 'pop-up water-park', Layher Allround was the only viable scaffolding solution. Thanks to the versatility of the system and the efficiencies gained during erection and dismantling, Layher Allround was used throughout the park for a number of different applications. Instant Scaffolds were selected to assemble the scaffolds due to their depth of experience with the Allround system.
One such application was to access the top of the world's tallest inflatable waterslide, as certified by the Guinness Book of Records! To achieve this, a freestanding 22.5m high public access stair-tower was designed by Layher's expert design and technical team. The Layher Stair Tower was also used to lift the top section of the slide during inflation. The structure was designed to accommodate large numbers of patrons simultaneously and to withstand challenging weather conditions.
Layher Allround was also used for the poolside decking, which provided access around Splash City's temporary 'above ground' pools. This took advantage of Layher's U-Lattice Steel Beams to reduce the number of standards required within the structure, whilst still being able to take significant live loads.
Splash City's selection of Layher Allround was influenced by Layher's global representation, together with the product's justified reputation for exceptional speed of assembly and dismantling.