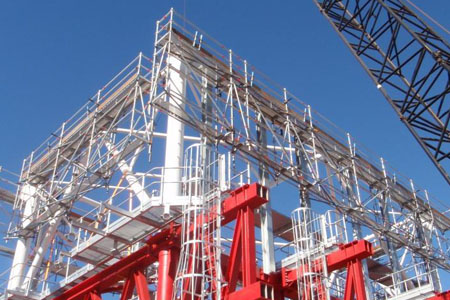 Scaffolding with flare
A Mammoet crane lifts the final section of the 121m high flare stack into place at the Pluto LNG Project in Western Australia. Cape erected Layher Allround scaffolds on each joining level of the stack to allow the riggers to torque up the joint bolts. Hooks attached the scaffold to the structural members of the flare stack so when everything was tightened the scaffolds were simply lifted off.
There was no access from the 51m mark so Cape suspended a 60m high platform stair was constructed from the modules. The 60m stair was craned off intact afterwards and laid horizontally on the ground for dismantling.