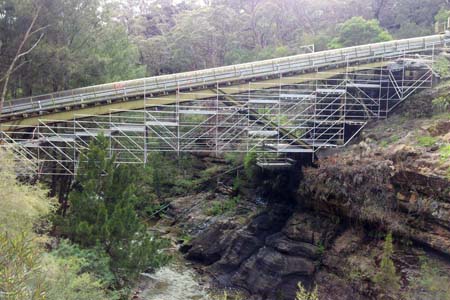 Scaffrite's 25m bridge span
Scaffrite Industrial scaffolding were invited to submit a tender for the Bridge at Berrima Colliery which supports the conveyor and dolly car. The Bridge which had been in service since the 1960's required repairs including blasting and painting.
Consideration regarding a safe scaffolding erection methodology, efficient material handling and the need for an unsupported span lead to Scaffrite using Layher ALLROUND scaffolding for the project. Scaffrite were able to utilise the load bearing capacity of ALLROUND diagonal braces to create cantilevered platforms.
Starting from one side of the bridge and using temporary supports during the scaffold erection, a free span of 25m was achieved. The 8m wide working platform was also stepped to create a deck suitable for the work intended and the required encapsulation.
Heavy duty loading bays and access towers were also incorporated into the design to allow for efficient transportation of materials during erection. Using Layher ALLROUND for the first time Scaffrite were able to complete this challenging project on schedule.