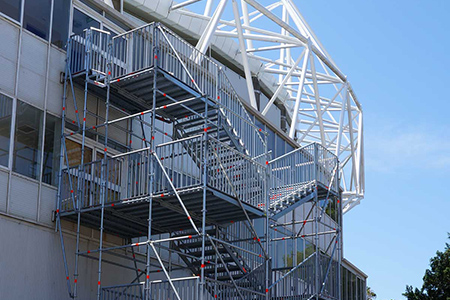 SCG public access stairway
When stair access is required, and in quick time, there's no better solution than that offered by Layher. Layher's Public Access Stairs combine speed with versatility and strength.
This combination makes them the number one choice in Australia today. This design by Australian Scaffolds utilises Layher's 8 Step, 750 Stair Stringers and Child Proof Guardrails to achieve full compliance with Australian Standards and BCA for public access. Company director, Daniel Butlin, said "We're very familiar with Layher ALLROUND and Layher's Stairs.
We know how fast and versatile they are, we knew we could deliver exactly what the client required and build to specifications quicker than any other system. It took only 4 hours to build with 4 men and provides access at heights of 6.5m and 9.0m".
Thank you to Daniel Butlin of Australian Scaffolds for the use of these photos.