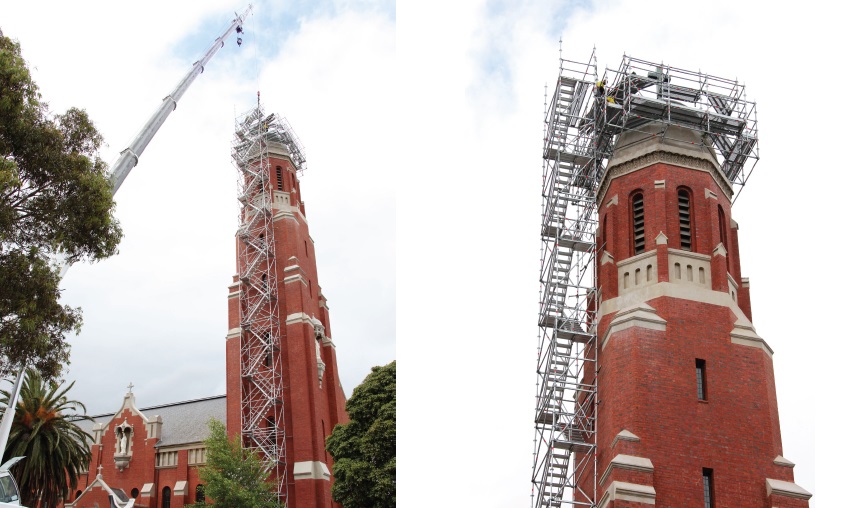 Stair tower and dome-access at St Mary's Church
The unique capabilities of Layher's Allround System have delivered another outstanding solution. Scaff-Co Pty Ltd were appointed to design and install a craneable scaffold stairway tower and working platform to provide access for the maintenance work atop the dome at the St Mary's church in Bairnsdale, Victoria.
Scaff-Co, together with Layher's technical team, designed a Layher Allround dome-access scaffold and a 40m high craneable stair tower in 6 modules. An impressive solution that was assembled and installed by a 5-man scaffold squad within one day. This was followed by a crane and rigging crew to install and piece together the stair tower scaffold structure.
Mindful of the building's heritage and its importance to the local community, the entire scaffold was constructed without intrusive ties. The speed of the erection meant disruption was kept to a minimum and the project was completed within three days.
The Managing Director of Scaff-Co, Damien Overy, said "Being able to crane the dome-access scaffold and stairs into position was an incredible advantage to the client. The flexibility offered by Layher Allround meant a much quicker project execution when compared to any traditional method. Everyone involved in the job was delighted with the results."
Congratulations to Damien and the Scaff-Co crew – a job to be proud of!