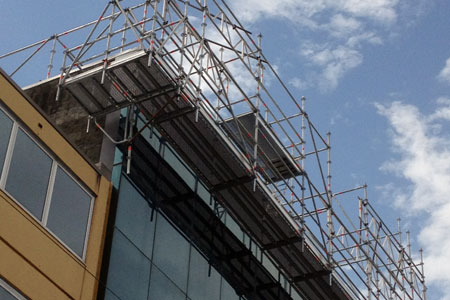 Suspended facade access
A high rise building on the North Coast of NSW required a working platform to perform some remedial work on the façade. Ballina Scaffolding Services designed a Layher ALLROUND suspended and cantilevered scaffold that was able to be craned from the ground in 6 modules.
The entire structure was assembled and installed in 2 half-day shifts on a weekend eliminating the need for lower hoardings and minimising any work at heights risk.
Scott Walker, Managing Director of BSS, said "the Layher scaffold was awesome. I couldn't believe how fast it went together".
Thank you to Scott Walker from Ballina Scaffolding Services for supplying the photos.