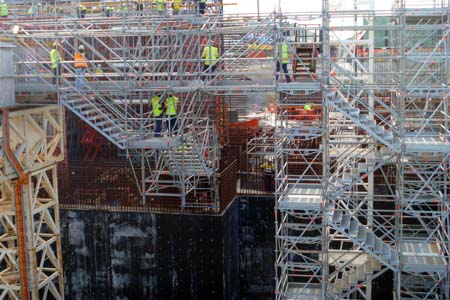 Suspended stair by CGE Hire
CGE Hire was engaged by one of the country's largest infrastructure projects for the design and supply of this suspended Layher Allround stair solution. The main scaffold stair tower was erected by CGE Hire in-situ. The bridge including an underslung stair way was built safely on the ground in one piece then craned into position. The other end of the bridge sat on an elevated walkway from the crib rooms.
John Onley of CGE Hire said other parts of the project installations also went smoothly, "with Layher's flexibility and bay sizes we were able to install modular staging which would have been impossible with older systems. We were able to prefab scaffold 2.5 x 2.5 towers up ten meters high lying on their side in the yard, have them fitted with the lighting etc, then stand and insert into the cell areas by crane. They were removed and dismantled the same way. To build them insitu would have presented some very difficult situations, especially from an OH&S perspective. Rescue would have been extremely difficult."
Thank you to John Onley of CGE Hire for the use of this photo.