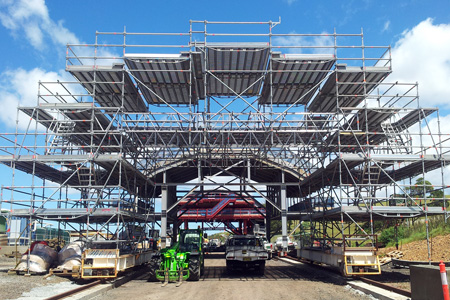 Waterproofing gantry
Lend Lease is currently undertaking the Tintenbar to Ewingsdale Pacific Highway project in New South Wales. This project involves the construction of twin 400m long tunnels under St Helena Hill. Layher ALLROUND was selected to be used as a mobile gantry to allow the installation of the waterproofing in the inside of the tunnel. The 10m long gantry sits on specially designed bogies that are self-propelled.
Layher designed the scaffold to allow for access underneath via aluminium lattice girders while cantilevered platforms provide access to the work face. The scaffolding was installed by Ballina Scaffolding Services.
Thank you to Scott Walker, Managing Director of Ballina Scaffolding Services, for supplying these photos.