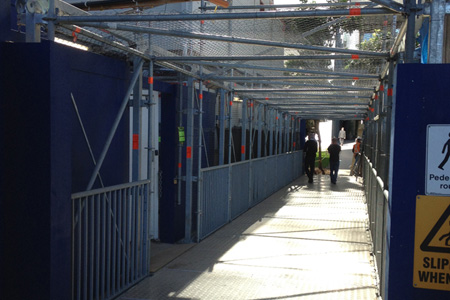 Wynyard walk public access bridge
This impressive bridge using Layher ALLROUND Heavy Duty Bridging system is currently being used to facilitate access to the Sussex Hotel and food court as part of Sydney's major Wynyard Walk development that will allow daily public access for 30,000 pedestrians into the Barangaroo precinct.
The 20m bridge spanning 16m has been fitted with chequer plate flooring over steel decks and was completed by a 4 man crew from Australian Scaffold in less than 2 days.
Daniel Butlin from Australian Scaffold said "The client had seen photos of the heavy duty bridging system before but had not used us or Layher. He is extremely happy with the speed of installation, quality of the scaffold and the fact that it meets the BCA requirements for public access".
Thanks to Australian Scaffold for use of these photos.