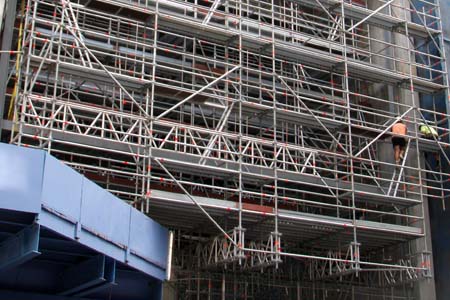 Cantilevered facade
On a Bovis Lend Lease site in Sydney's busy George Street, Above Scaffolding have built a façade scaffold with a difference. The façade scaffold is 14m wide x 18m high and is supported on twin 750 lattice girders cantilevered off a birdcage scaffold in the atrium and extending out over the construction zone in the heart of the CBD.
The scaffold was pre-assembled in 4m high sections which were then craned into position. The structural capacity of the Layher lattice girders and the capability to install pre-assembled scaffold modules using the crane allowed the scaffold to be erected during normal hours with no interruption to traffic or risk to the public.
Thanks to Brian Whelan of Above Scaffolding for the photo.