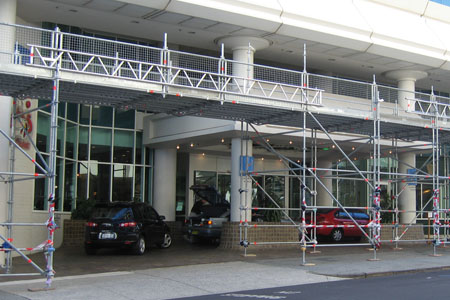 Hotel gantry scaffolding
This gantry adorns the Novotel in downtown Perth. It is for both pedestrian protection and a landing platform for swinging stages. Designed to the client's requirements, it is 2.57m wide and built to meet a 5 kPa rating. The bridging sections were beamed rather than supported by diagonals as the standards could not be of sufficient height for tension bracing. Standards are doubled either side of the entrance ways as a precaution against the scaffold being hit by vehicles.
Our thanks to Murray and Brett McLean of Instant Access & Access Equipment WA for permission to use this photo.