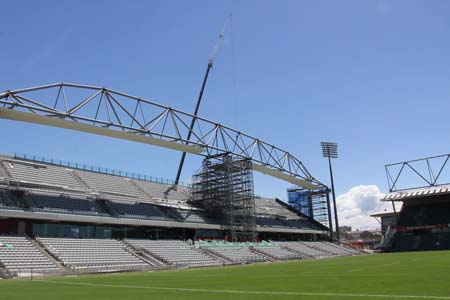 Outstanding stadium propping
The 100m free-span roof truss of the new WIN Stadium Grandstand in Wollongong had to be rectified. Above Scaffolding designed this propping solution incorporating Layher Allround heavy duty base jacks and collars, to support the truss during removal and replacement.
The propping towers were designed to work in both tension and compression and additional inclined props were required to support the underside of the grandstand. Above Scaffoldings' Senior Design Engineer, Owen McGuigan said "Supporting the 100T truss 18m high and in such a wind exposed location presented significant technical challenges. The project had to be completed to a very tight program and with a lot of attention from the media".
Thank you to Brian Whelan of Above Scaffolding for use of the photo.