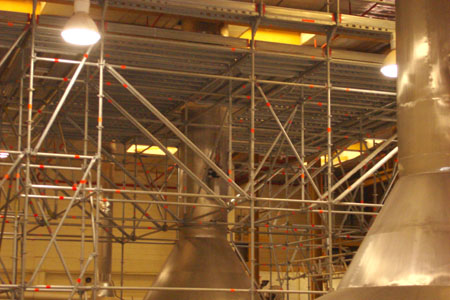 Swan Brewery birdcage
The award-winning (Champion Australasian Brewery 2004) Swan Brewery in Perth, originally established in 1857 and now part of the Lion Nathan group, is being upgraded. A new, more efficient vessel, a "Louter Tun", is being installed, made by Krone in Germany, so they can brew a greater variety of beverages, including the local beers Emu and Swan and national brands Tooheys and Hahn that they already brew. The photo shows the scaffold erected by Instant WA, prior to the roof being removed for the removal of the 8.4m brew kettle.
A total of 7 tonne of Layher scaffolding was used on the job. The centre trusses are up to 5 and 6 bays wide, supported at the corners by 4 X 1.09m towers constructed from Layher Allround scaffolding.
Thank you to Brett McLean of Instant Scaffolds for the use of these photos.